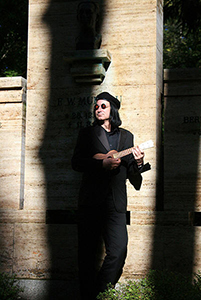 Martin Guitars started making a new line of ukuleles in 2011. I immediately jumped on the bandwagon and started buying the new Martin sopranos. You can watch the YouTube video of the first five I bought and hear my story.
I don't own any vintage Martin ukuleles. Not yet! I have played some though. I just like putting the new ones to the test and doing video reviews. You can find all the specifications of the new Martin ukuleles on the Martin site: Martin Ukuleles are back!
When I started playing ukulele back in October 2006, the only local ukuleles available from the music stores were those low budget colourful Mahalo ukuleles. I didn't realize when I started playing that there were also great quality ukes out there at the time — mostly only in Hawaii and I didn't have vacation plans to go there! hehe
So, as the humble ukulele started to make a long deserved comeback on the internet between 2008 and onwards, I started to buy ukuleles online. I must admit I don't like buying musical instruments without playing them first but our world has changed quite a bit with online purchases. Especially, since it was so hard to find good ukuleles back then, and I was forced to start buying all sorts of them online looking for that Holy Grail of new ukes.
I went through many suspect ukes as I depleted regularly my pocketbook but I never quite found the sound and quality I was looking for until I stumbled across my first new Martin SO (made in Mexico). I actually bought it in Berlin, Germany in May 2011. When I came back to Canada, I started looking for to order new Martin ukes from my local music store Long and McQuade that listed them on their website. I've bought most of the new Martin ukuleles of all sizes (soprano, concert, tenor) but I have since given a number of them away to good friends once I've done my reviews. Voltaire said, "Tell me who your friends are and I will tell you who you are."